MAC to Millennium

Van Munching Hall — Building constructed in 1992 and named for Leo Van Munching (Class of 1950). A plaque dedicating the building and honoring Van Munching for his contributions to the business school was installed in 1993. Portraits of Van Munching and Howard Frank, former dean of the Robert H. Smith School of Business, have also been installed in the building.
Veterinary Center, Avrum Gudelsky — Constructed in 1989 and named for alumnus Avrum Gudelsky.
Vice Presidents — Four United States Vice Presidents are known to have visited the University of Maryland: Lyndon B. Johnson, Hubert H. Humphrey, Spiro T. Agnew, and Al Gore. Johnson and Humphrey both served as commencement speakers while Vice President, in 1963 and 1965 respectively. Agnew spoke at commencement in 1967, before becoming Vice President. In 2000, during his presidential campaign, Gore used the university as the setting for an announcement of his plans for college tuition tax credits and new college savings accounts for taxpayers, and he returned to UMD as the commencement speaker in May 2018.
Victory Song — School song most frequently heard at athletic events; words and music by Thorntown W. Allen; copyright 1928 by the Student Assembly of Maryland.
Vietnam Memorial — Constructed in 1988 on the south side of Memorial Chapel. The memorial was established by students in the general honors program. Refurbished and re-dedicated in 2010 as part of the celebration of the Garden of Reflection and Remembrance.
Vitamin B12 — Faculty member Mary S. Shorb, a research professor in the Department of Poultry Husbandry, played a key role in the discovery of Vitamin B12.
Volleyball — Intramural competition in women's volleyball began in the 1930s; official competition in 1971. They were ACC champions in 1990, 1996, 1997 and ACC Tournament champions in 1990, 1996, 2003, and 2004.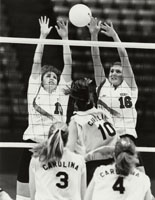 Volleyball at UMD