MAC to Millennium
Take Six — Alumnus Cedric Dent is a member of the Grammy Award-winning a cappella jazz/gospel vocal harmony group Take Six. The group won two Grammys for its self-titled debut album, recorded in Nashville and released in 1988. Take Six has recorded with such notable artists as Ray Charles, Whitney Houston, Queen Latifah, CeCe Winans, and Stevie Wonder.
Talbot Hall — Dormitory constructed in 1948; designed by Edwin Wilson Booth. Named for Talbot County, Maryland.
Taliaferro Hall — The building was constructed between 1894 and 1896, and its cornerstone describes the dedication of the building in 1908. It was named for Thomas Hardy Taliaferro, dean of the College of Engineering and the College of Arts and Sciences. The name is pronounced "Tolliver," the common regional pronunciation.
TAP Building — Opened in 1998 to house the university's Technology Advancement Program (TAP).
Tawes Fine Arts Building — Building constructed in 1965 and named for J. Millard Tawes, governor of Maryland (1958-1966). The building houses the Homer Ulrich Recital Hall, dedicated in 1994 in honor of Ulrich, professor and chairman of the Department of Music. This building was renovated in 2016 and now houses the Departments of American Studies and English, among other units. One of the haunted locations on the UMD ghost tour.
Television Shows — Julia Louis-Dreyfus and the cast of "Veep" traveled to College Park to film an episode of the show in the Physical Sciences Complex in October 2013. The university was also featured on the September 9, 2012, episode of Bravo TV's "Real Housewives of New Jersey" when the Wakile family tours the campus and episodes of "Young Sheldon" and "Savage U".
Tennis, Men's — First organized in 1898. Won the ACC championship in 1957. Team was eliminated in 2012.
Tennis, Women's — As with most other women's sports, tennis began intramural competition in the 1920s. Official competition began in 1976.
Terp Farm — Sustainable farming operation established in 2014. Located at the university's Upper Marlboro farm facility.
TerpVision — Multimedia series created by the university's Strategic Communication and Marketing unit in collaboration with UMTV and the Philip Merrill College of Journalism. Series ran from 2010 to 2015, and TerpVision episodes are now available on YouTube. Episodes featured stories about UMD faculty, staff, and students and the impact they had in the campus and local communities and around the world.
Terrapin Club — Created in August 1946 to aid in the growth of the university. Current mission is directed specifically to UMD athletics--to "serve our donors and student-athletes with pride and work diligently and collaboratively to provide the resources for our student-athletes to succeed at the highest level in the classroom, in competition, and in the community." For more information , visit the Terrapin Club website.
Terrapin Hall — Located between Morrill Hall and Tydings Hall, this building was the original home for the infirmary/health center, erected in 1901. It was christened Terrapin Hall in 1964. Other uses for the building included the Home Management Center (c. 1966), the home for the Anthropology Dept. (c. 1970-1072), and the home of the Career Counseling Center (late 1970s). The building was torn down in 1980.
Terrapin Reading Society — The society selects one book each year for students to discuss in extra-curricular activities which include movies, an essay-writing contest, and a publication. Organized in 1994 as "First Year Book" and originally intended for freshmen.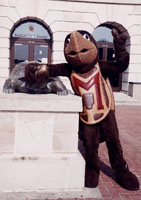 Testudo — The Diamondback terrapin that serves as the official mascot of the University of Maryland. The original derivation of Testudo's name is uncertain, but several possible sources have been suggested through the years: the scientific classification for turtles ("testudines"), "testudo gigantea," a species of turtle native the Seychelles in Africa, or the Latin word "testudo" for a shelter held over the heads of soldiers, like a shell. The Story of Testudo.
Tewaarton Award — Nine Terps have taken home lacrosse's highest honor, awarded annually to the most outstanding players in American college men's and women's lacrosse. Terps who have won this honor on the women's side include Megan Taylor (2019, the first goalie to win the award), Zoe Stukenberg (2017), Taylor Cummings (2014-2016, the only three-time winner of the award), Katie Schwarzmann (2012-2013), Caitlyn McFadden (2010), and Jen Adams (2001). On the men's side, Matt Rambo brought home the Tewaarton in 2017, followed by Jared Bernhardt in 2021 and Logan Wisnauskas in 2022.
Timchal, Cindy — Former head coach of top-ranked women's lacrosse team. Upon winning the national championship game on May 20, 2001, Timchal passed William Smith's Pat Genovese on the all-time collegiate list for coaching wins. Maryland's victory was the 268th of Timchal's career (192 at Maryland and 76 at Northwestern), giving her one more than Genovese and making her women's lacrosse's all-time leader. Timchal is a member of the UMD Athletic Hall of Fame and the U.S. Lacrosse Hall of Fame.
Titanic — The only known link between the Maryland Agricultural College and the sinking of the "Titanic" in 1912 is the Academy Award won by alumnus Mark Lasoff, Class of 1988, for the special effects on the James Cameron-directed version of the mighty ship's fateful voyage, one of the highest-grossing movies of all time.
Toll, John S., Physics Building — On May 3, 2001, the university's physics building was renamed in honor of scientist, scholar, and educator John S. Toll. Toll is a former physics department chair at Maryland and former president and chancellor of the University of Maryland System. The building, designed by Hall, Borden & Donaldson, was constructed in 1952.

Tony Awards — University of Maryland faculty member Brian MacDevitt, an associate professor of Dance/Theatre Design and Production in the School of Theatre, Dance, and Performance Studies, is the winner of five Tony Awards. He won his fifth in 2011 for Best Lighting of a Musical for The Book of Mormon. He has been nominated 11 times and was previously honored for his work on Joe Turner's Come and Gone (2009); The Coast of Utopia [Part 1 - Voyage] (2007); The Pillowman (2005); and Into the Woods (2002). He also received a Drama Desk Award for Outstanding Lighting Design for The Coast of Utopia [Part 1 - Voyage], his sixth nomination for that honor. Ken Waissman, Class of 1962, won a Tony in 1983 as one of the producers for Torch Song Trilogy, which won for Best Play that year.
Tora! Tora! Tora! — Famous World War II saga that was the basis for the movie of the same name penned by History Department faculty member Dr. Gordon W. Prange, who died in 1980. The world-renowned collection of publications produced in Japan during the Allied Occupation from 1945 to 1949 owned by the UMD Libraries bears his name.
Tornado — On September 24, 2001, around 5:30 p.m., an F3 tornado touched down on campus, killing two students -- sisters Colleen and Erin Marlatt -- and causing major damage to North Campus near Easton Hall. Temporary trailers housing the Maryland Fire and Rescue Institute were also destroyed.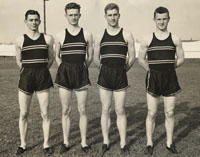 Track and Field Hall of Fame, U.S. — UMD track star Renaldo "Skeets" Nehemiah, a world-record holder while still an undergraduate, was inducted into the U.S. Track and Field Hall of Fame in 1997.
Track and Field, Men's — First organized in 1898. The team won 25 ACC Championships in a row, ending in 1979. Competition in indoor track was discontinued in 2012.
Track and Field, Women's — Official competition began in 1971-1972.
Tree Campus USA — UMD is the first university in the state of Maryland to be designated as a Tree Campus USA by the Arbor Day Foundation, initially receiving this honor in 2008. The Tree Campus USA program recognizes colleges and universities for their effective forest management and for engaging their communities in conservation goals.
Tree Nursery, Maryland State — The original Maryland State Tree Nursery was established on the University of Maryland campus in 1906, located near the intersection of what is now Route 1 and Lakeland Road, across from the fire station. Dean of Agriculture, Cheng-I Wei, and Maryland Department of Natural Resources C. Ronald Franks, planted a white oak at this site in 2006, to mark the 100th anniversary of the nursery and a new partnership between UMD and the DNR.
Trees — As of 2019, there are 3,185 of the campus' approximately 15,000 botanical assets that are over six inches in diameter and at least chest high.
Trees, Memorial and Honorary — A magnolia tree was planted in front of the Gossett Football Team House in memory of Jordan McNair on June 13, 2019. Another memorial tree, which honors Jayanth "JJ" Charya, a resident of Worcester Hall and the North Hill Community, is located between Worcester and Somerset Halls. Friends, colleagues, and members of the Latino campus community planted a tree in memory of Carolina Rojas-Bahr on Hornbake Plaza. Trees in the Garden of Reflection and Remembrance, to the south of Memorial Chapel, honor India Tiller and former Lutheran Chaplain Elizabeth Patz.
Tree, Oldest—UMD Arboretum staff have determined that the oldest tree on campus is a post oak near the pedestrian bridge from Campus Drive that leads into the north entrance to the Architecture Building. Based on the tree's circumference, estimated at 44 inches in 2019, and the standard growth rate for post oak of 2 inches per decade, it is quite possible that this tree is over 220 years old.
Truman Capote Award for Literary Criticism — Faculty member Stanley Plumley received the 2015 Truman Capote Award for his work The Immortal Evening: A Legendary Dinner with Keats, Wordsworth, and Lamb. This award is administrated by the University of Iowa's Writer's Workshop in Capote's memory.
Truman Scholars — Multiple Terps have received Truman Scholarships: Clayton J. Powell, Jr., (Class of 1978) in 1977, Jacqueline V. Crawford (Class of 1980) in 1979, Peter A. Shapiro (Class of 1995) in 1994, Melissa Boteach (Class of 2005) in 2004, Phillip Hannam (Class of 2009) in 2008, Dylan Rebois (Class of 2011) in 2010, Brock McIntosh (Class of 2013) in 2012, Mohammad Zia (Class of 2014) in 2013, and Fang Cao (Class of 2015) in 2014. This highly competitive award, presented by the Harry S. Truman Foundation, is given to college juniors who have demonstrated outstanding leadership and devotion to careers in public service. Only 75 to 80 students receive Truman Scholarships each year.
Tug-of-War — This annual struggle between the freshman and sophomore classes during the spring semester marked the end of the beanie-wearing season for the freshmen. The traditional contest over Paint Branch Creek began about 1915 and continued into the early 1950s.
Turner Hall (Turner Laboratory) — Building constructed in 1924 and named for Philip C. Turner, member of the Board of Regents (1941 to 1952). Designed by Howard W. Cutler. Turner Hall was the original home to the University of Maryland's famous dairy, which moved to the Stamp Student Union in 2014. The building was originally nicknamed "The Shirt Factory." It now houses the university's visitors center and offices for Strategic Communications and Marketing.
Twins, Female — The first set of identical twins known to have graduated from the University of Maryland are Edith and Edna Burnside, Class of 1929.
Tydings Hall — Building constructed in 1961 and named for Millard E. Tydings, U. S. Senator (1927-1951) and 1910 graduate of the Maryland Agricultural College.
Tydings Trophy — Trophy named for U.S. Senator and UMD alumnus Millard E. Tydings (Class of 1910), awarded annually to the winner of the Maryland vs. Virginia football game from 1926 to 1945. The trophy consisted of an actual-size, silver-colored football mounted on a wooden base and was inscribed "Senator M.E. Tydings Trophy to be given annually in honor of Dr. W.A. Lambeth and Dr. Albert Lefevre of The University of Virginia to victor in annual Virginia - Maryland football game." These two gentlemen were honored for their dedication to improving sportsmanship on the athletic field and their role in creating the Southern Conference, to which Maryland belonged prior to becoming a charter member of the Atlantic Coast Conference (ACC).
Tyser Tower — Constructed in 1991 as the "Athletics Welcome Center" and press box in Maryland Stadium. The tower is 92 feet by 152 feet and was named for Ralph J. Tyser (Class of 1940), a major university supporter. Mr. Tyser is also honored with a portrait in Van Munching Hall, outside Room 1212, to recognize his support of the auditorium facilities in that building.